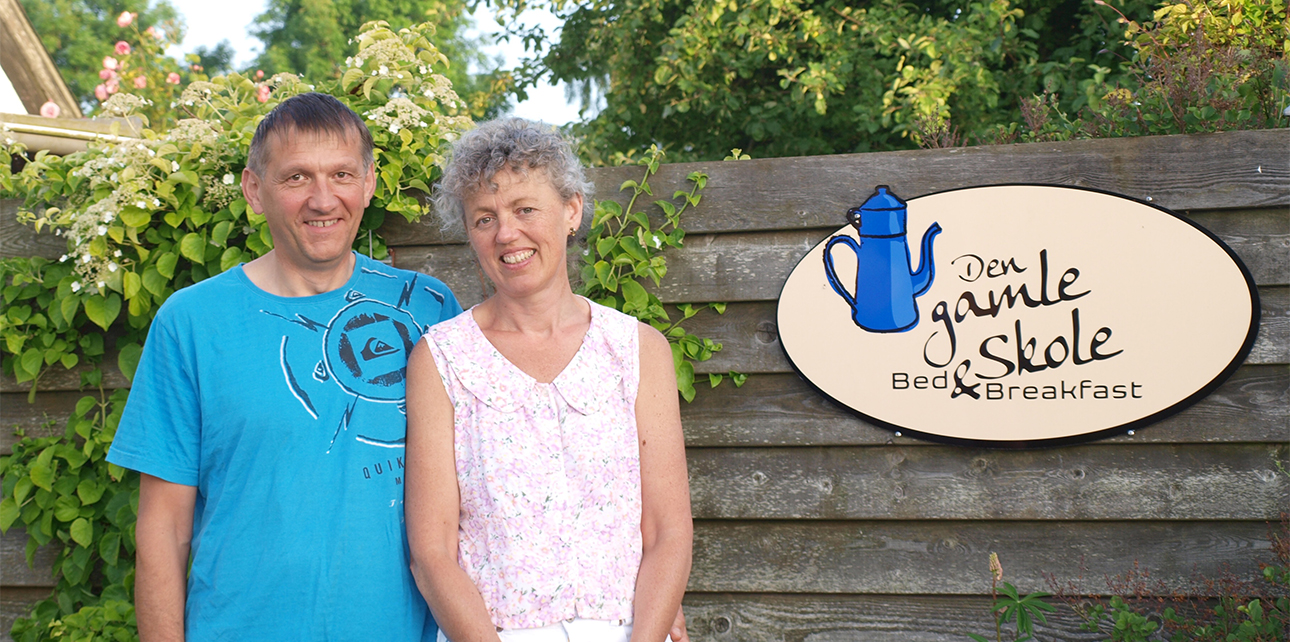 My husband Knud, and I, Konni, welcome you to come and stay in 'Den Gamle Skole' in the village of Over Hadsten. Maybe for a night. Maybe for a small retreat.
We enjoy having guests in our house, and we hope this is apparent! We strive to be available. We live in the other end of the house.
Our 4 adult children have moved out, so a 20 year old dream of having B & B has now come true.
We both work in the building next door. Knud runs 'Balderus Stoleflet' (www.balderusstoleflet.dk) and is refurbishing woven seats for chairs and I am a trained physiotherapy masseur. (www.massagevaerket.dk) Guests are welcome both places!
Today in 'Den Gamle Skole' (The old School), you are allowed to take some long breaks. You can just read books without any homework og exams. No more shaming. Instead you are welcomed by the comfortable snugs waiting for you. Here you can rest and spend time reflecting, if that is what you need. Rather than sweating in headmasters garden, a warm summer day can be spent in the garden hammock. You won't have to watch television either because we don't own one. Rather you could read papers or books, or you could take time to talk or even book a massage in the clinic next door. The clouds, the flowers and the chicken are all there to be watched. When restlessness sets in, you can go for a beautiful hike along forests and meadows just nearby. 5 km in cross-country footwear.
As you can see on this homepage, we are offering 2 rooms with double beds. An extra bed is available. The bathroom is shared between the two rooms. Breakfast can be served if you wish. The small hall is serving as both kitchen and sitting room. Here you can make coffee or tea. You'll find a microwave oven, a small fridge and a place to eat.